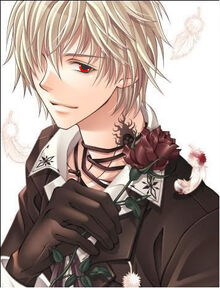 Name: Ryuuzaki
Gender: Male
Birthday: June 5th
Age: 19 (Physically) 15,000 (Chronologically)
Relatives:
Ritsuko (Wife, cousin)
Hajime (younger brother)
Ichiro (younger brother)
Chizuru (younger sister)
Hanako (younger sister)
Keiichi (son)
Kazuma (son)
Rena (daughter)
Race: Half Demon Half Vampire
Height: 215 cm (7'1'')
Weight: 58 kg
Eye colour: Red (left) Orange (right)
Hair colour: Pale blonde
Occupation: 3rd year secondary school student
backstory: Ryuuzaki is a tall and handsome man, he is the oldest son and strongest in the family, he's priority is to protect his family especially his younger sister since she doesn't know how to control her powers one time she destroyed the entire city of Tokyo, making a big crater and splitting japan into two islands and affecting nearby areas, he is usually seen at school or home.
Ad blocker interference detected!
Wikia is a free-to-use site that makes money from advertising. We have a modified experience for viewers using ad blockers

Wikia is not accessible if you've made further modifications. Remove the custom ad blocker rule(s) and the page will load as expected.