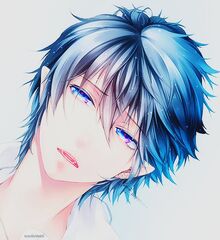 Name: Ichiru
Gender: Male
Birthday: January 21st
Age: 16 (Physically) 12,000 (Chronologically)
Relatives:
Hajime (older brother)
Ryuuzaki (older brother)
Chizuru (younger sister)
Hanako (younger sister)
Ritsuko (cousin)
Keiichi (nephew)
Kazuma (nephew)
Rena (niece)
Race: Vampire
Height: 198 cm (6'6'')
Weight: 55 kg
Eye colour: Blue
Hair colour: Light to dark blue hair
Occupation: 1st year secondary school student
Info:
Ichiru is a tall and handsome teenager, he has a shy but quick-tempered personality, he is usually seen with his older brothers at lunchtime or home, Ichiru is a the third strongest son in the family, he can manipulate time and read people's mind, he doesn't like reading his older brothers thoughts because Ryuuzaki and Hajime have a strong sense of feeling
Ad blocker interference detected!
Wikia is a free-to-use site that makes money from advertising. We have a modified experience for viewers using ad blockers

Wikia is not accessible if you've made further modifications. Remove the custom ad blocker rule(s) and the page will load as expected.