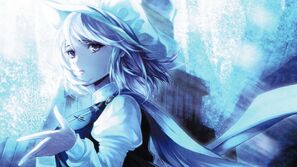 Name: Hanako
Gender: Female
Birthday: August 22nd
Age: 11 (Physically) 8,000 (Chronologically)
Relatives:
Ryuuzaki (older brother)
Hajime (older brother)
Ichiru (older brother)
Chizuru (older sister)
Ritsuko (cousin)
Keiichi (nephew)
Kazuma (nephew)
Rena (niece)
Race: Demon
Height: 165 cm (5'5'')
Weight 49 kg
Eye colour: Light Blue
Hair colour: Aqua
Occupation: 3rd year elementary school student
Backstory:
Hanako is a young and beautiful girl with exceptional powers she is always seen alone eating lunch in the school's rooftop, when she's home, she doesn't talk much, she is never seen exhibiting emotions, her older siblings are worried that something might be wrong with her, also her parents died when she was only 3 years old
Ad blocker interference detected!
Wikia is a free-to-use site that makes money from advertising. We have a modified experience for viewers using ad blockers

Wikia is not accessible if you've made further modifications. Remove the custom ad blocker rule(s) and the page will load as expected.