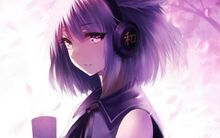 Name: Chizuru
Gender: Female
Birthday: November 30th
Age: 14 (Physically) 10,000 (Chronologically)
Relatives:
Ryuuzaki (older brother)
Hajime (older brother)
Ichiru (older brother)
Hanako (younger sister)
Ritsuko (cousin)
Keiichi (nephew)
Kazuma (nephew)
Rena (niece)
Race: Half Demon Half Vampire
Height: 185 cm (6'1'')
Weight: 53 kg
Eye colour: Light purple
Hair colour: Light purple
Occupation: 2nd year middle school student
Info:
Chizuru is a young and beautiful lady she is cheerful and always smiles, she greatly resembles her mother, she inherted her eye and hair colour and also her kind personality, she adores her older siblings it is said that she is seen at school or hanging out with her cousin
Ad blocker interference detected!
Wikia is a free-to-use site that makes money from advertising. We have a modified experience for viewers using ad blockers

Wikia is not accessible if you've made further modifications. Remove the custom ad blocker rule(s) and the page will load as expected.